British brands are beginning to take the e-Scooter revolution seriously as the possibility of the legalisation of privately-owned electric scooters on UK streets looms larger. With a selection of electric scooters catered to potential UK regulations, Zinc is one such manufacturer.
The 500W Zinc Velocity Plus, a £700 electric scooter that not only offers impressive performance but also a few security-focused features not found on many cheaper electric scooters, is the star of the collection. Is that sufficient justification for the high price tag, though? Well…
Concept and features
Quite hefty at 22 kg
Integrated cable lock
a special locking system based on NFC
The Zinc Velocity Plus is an attractive electric scooter that lacks down-the-stem brake cables that are visible. Where cables are visible, their black colouring helps them blend in with the scooter's mostly black body. Silver Zinc branding on the stem completes the look and contributes to the scooter's overall premium appearance.
Even when riding in wet conditions, the deck's grippy textured pattern and average length and width help you maintain your balance. The Inokim Ox Super, in my opinion, is the largest available, but it's still simple enough for me and my UK size 11s to stand with one foot in front of the other.
It should be noted that it does not officially claim to be water resistant in any way. I've ridden the scooter in wet conditions without incident, but to be safe, I'd stay away from puddles and avoid riding when it's actually raining.
The Zinc Velocity Plus can be folded down quickly, like most scooters can, making it great for storage and transportation. It can easily be folded down to a smaller 1164 x 550 x 575mm size from its full 1164 x 550 x 1185mm size when not in use. You can carry the folded scooter by the stem because the stem is connected to the board by a tiny latch.
Read More: In 2023, IPhones Production will Decline Because 90% of the Devices will Be Made in China.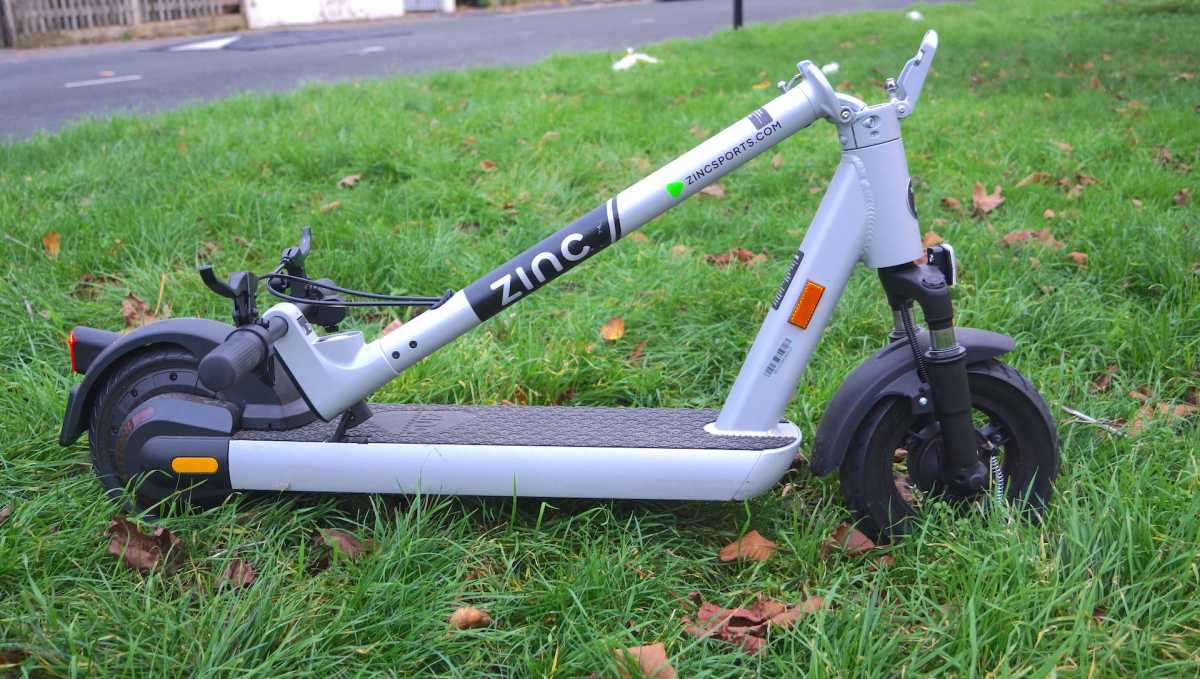 Remember that it's not one of the easiest scooters to carry by hand, weighing in at 22kg, but it's still manageable.
The handlebars feature dual brakes (which I'll talk about later), a thumb throttle, indicator controls, a bell, and a centrally mounted display. They are also comfortable to hold. The display is sufficiently bright for use outdoors and shows pertinent data like your current speed, battery life, and the mode you're in.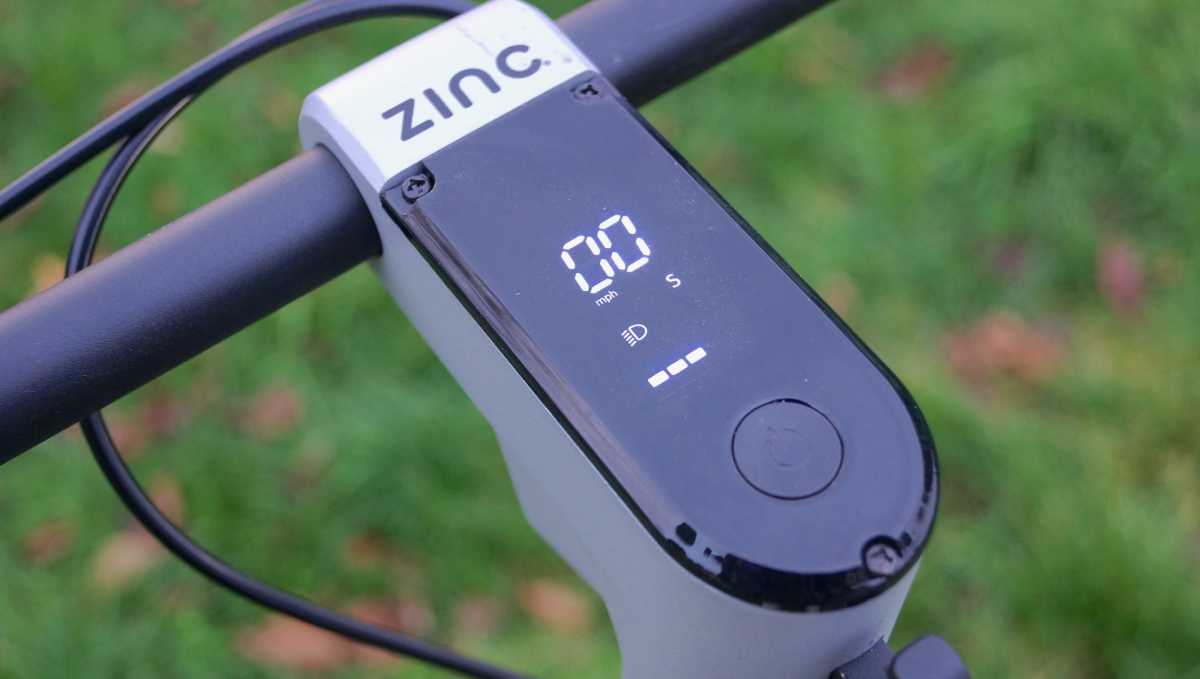 When riding in low light, the power button also activates an integrated LED light that helps illuminate the ground in front of you. Additional nighttime visibility features include reflectors on the front and sides, a brake light, and reflectors.
All of that is fairly typical for an electric scooter, but the security features of the Zinc Velocity Plus really set it apart.
The first is a built-in safety lock that is tucked away inside the scooter's stem and enables you to quickly lock it up without having to carry a separate lock. Even though the cable is relatively thin, a determined thief could easily break it in a hurry if you need to run to the store quickly.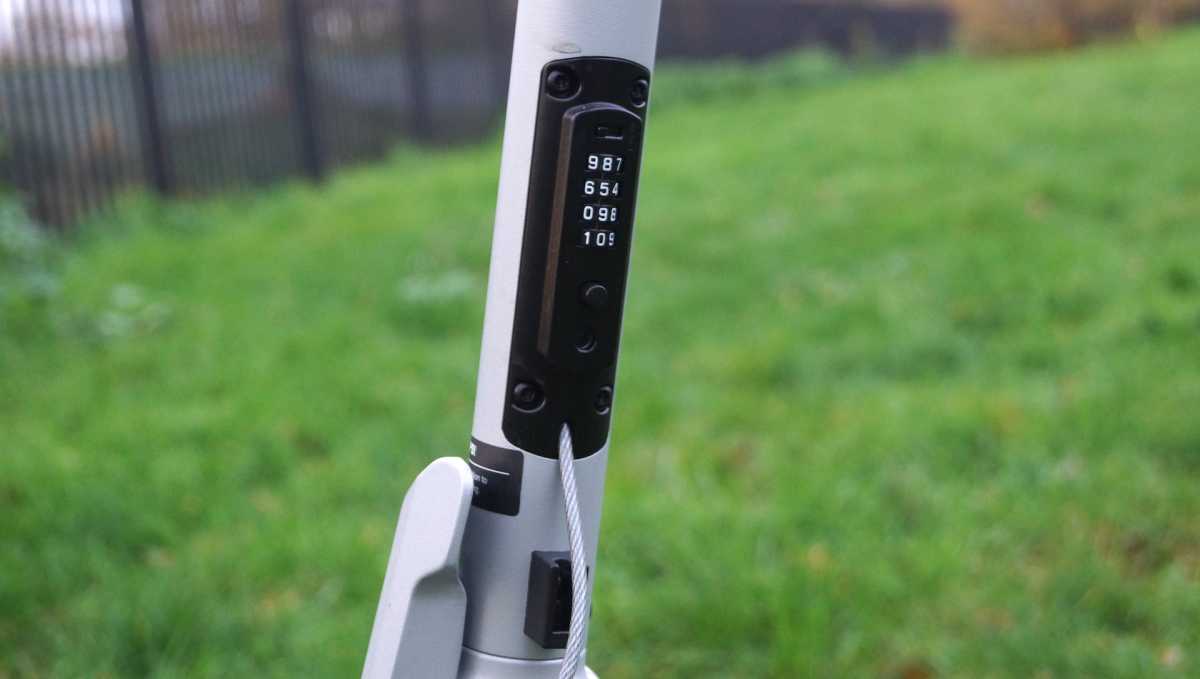 An NFC-based locking feature that requires you to tap an NFC card or key chain accessory onto the display in order to unlock the scooter is equally impressive. If you don't, the scooter won't accelerate and will continuously beep in order to draw attention to itself.
The latter is especially intriguing, though I would have preferred a louder beep since it is hardly audible on a busy road. It would have also been nice to have an automatic brake lock because when it is locked, the scooter still moves with no resistance.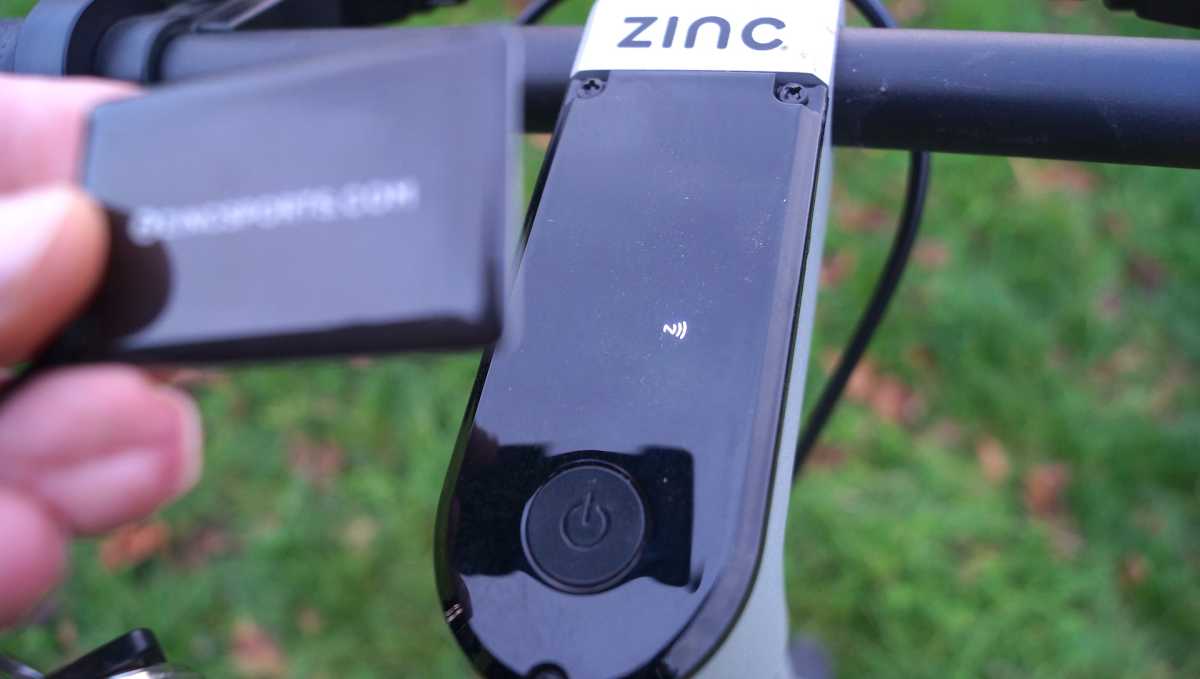 Nevertheless, it's a charming concept that I hope gets further explored.
Performance
performance from a 500W motor is quick.
Dual brakes offer excellent deceleration control.
bumpy on erratic terrain
The Zinc Velocity Plus has a potent 500W motor inside, which is more powerful than Xiaomi's Mi Scooter Pro 2 and the well-known Turboant V8. As you might expect, this results in a rather quick riding experience.
In fact, it's evident when using the Zinc Velocity Plus that it can go much faster than its top speed of 15.5 mph, with quick acceleration getting you there before you notice the scooter slowing down on its own, perhaps with an automated braking system. To see how fast the Velocity Plus can go, it would have been nice to remove the limiter for use on private property, but that is not possible.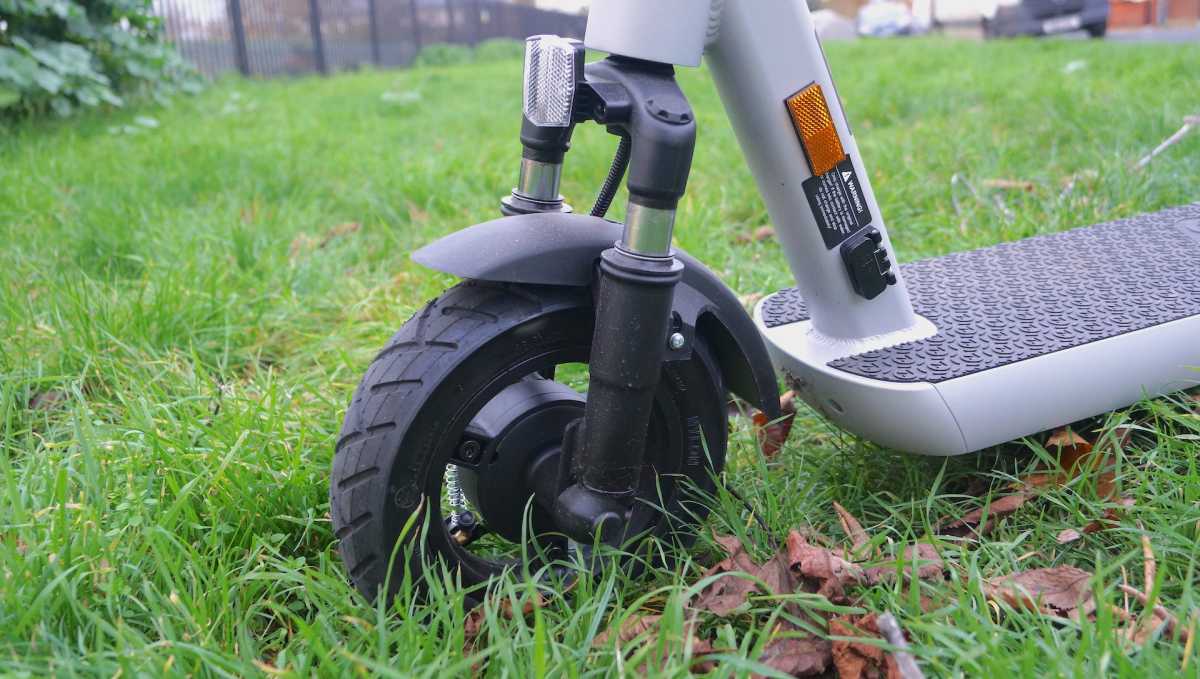 Due to UK law, rental electric scooters and electric bikes are only allowed to travel at a maximum speed of 15.5 miles per hour. If/when private scooters are legalised, it is widely anticipated that the same will apply.
Nevertheless, the Velocity Plus offers impressive performance. Because of the vehicle's quick acceleration, it can leave the curb on a green light and overcome inclines of up to 15 degrees with ease. I never had the impression that the Velocity Plus lacked the strength to get me where I needed to go during my testing.
There are three riding modes to choose from, as with most scooters. The scooter has the greatest range when in the Eco mode, which also reduces speed to 6.2 mph and slows acceleration. The Sport mode offers quick acceleration and top speeds of 15.5mph, but if you're like me and prefer the best performance at the expense of battery life, you can ramp it up to 12.4mph in the Drive mode.
In actuality, the only feature that is truly lacking is cruise control, which would enable you to let go of the throttle after a short period of maintaining the same speed. Even though it's a minor omission, it becomes apparent on longer rides.
Stopping power is just as crucial as acceleration, andThere is no letdown from the Velocity Plus either. It features dual brake controls, like those on standard bikes, as opposed to the single brake control found on many popular options.
It's a much better choice than a single brake system, which offers little control over the braking and makes it more difficult to safely stop. Contrarily, the dual controls give you independent control over the front and rear brakes for better control during acceleration and emergency stops.
Read More: Top 10 Benefits of Artificial Intelligence for Mobile App Development
Customers frequently ignore this feature, but it's a crucial one to take into account.
While the 9.3-inch air-filled front tyre and dual-fork suspension help elsewhere to lessen the judder caused by uneven riding surfaces, the lack of any kind of suspension on the rear wheel makes it far from the smoothest ride ever, especially on the patchy tarmac of London's roads.
That, however, is fairly typical compared to most available alternatives in its price range. In fact, if you wanted an e-scooter with proper suspension and an incredibly smooth ride, you'd have to spend almost twice as much on something like the $1,650/£1,299 Inokim Ox Super.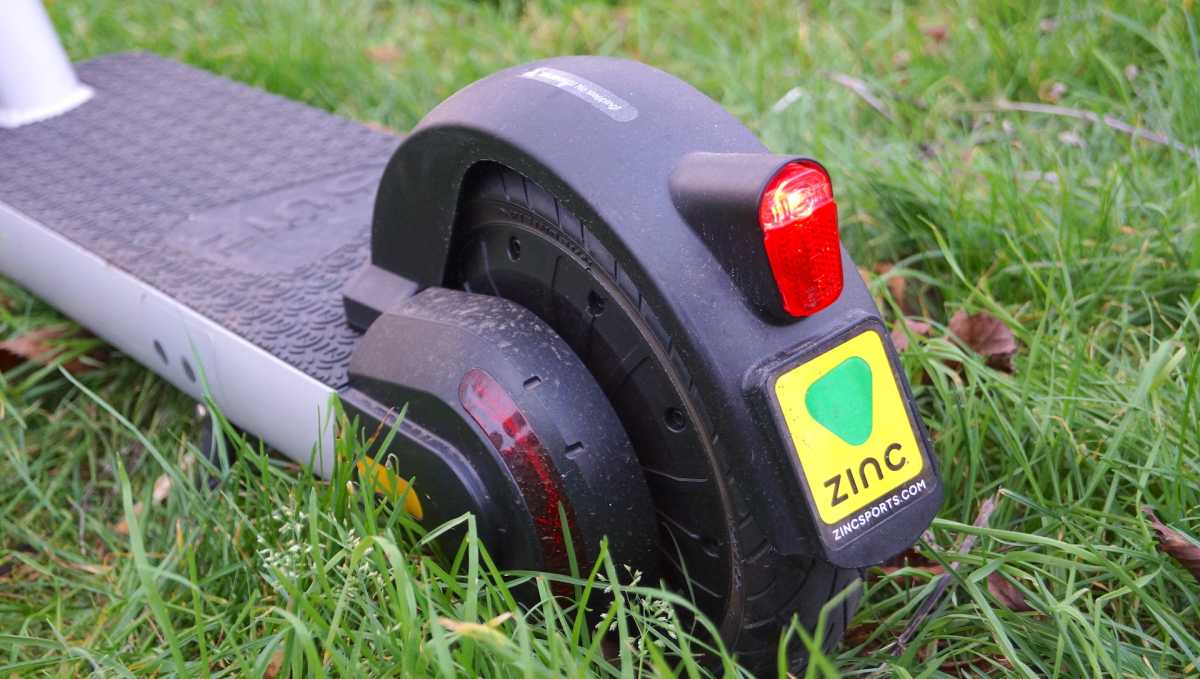 In addition, the strong motor on offer enables heavier riders up to 120 kg (about 19 stone), which is higher than the typical 100 kg (about 16 stone) from most competitors.
Life of battery and charging
31 miles or more per charge
Around 6 hours to reach 100% capacity
The 36v 13Ah (468Wh) lithium-ion battery for the Zinc Velocity Plus is tucked away inside the scooter's deck and contributes to its responsive performance.
Range-wise, you should anticipate the battery to deliver a maximum of 31 miles per charge; however, since the estimate is predicated on using the eco mode, you should anticipate less if you ride around at top speed. Mileage can – and will – vary, as it does with all scooters, depending on the rider's weight, the gradient of the road, and even the weather.
Despite this, it can still travel 15-20 miles at a reasonable speed, which is more than enough to get around my neighbourhood without fumbling for a charger. The 50-mile Turboant V8 and its dual battery system might be a better choice if you want the most range possible.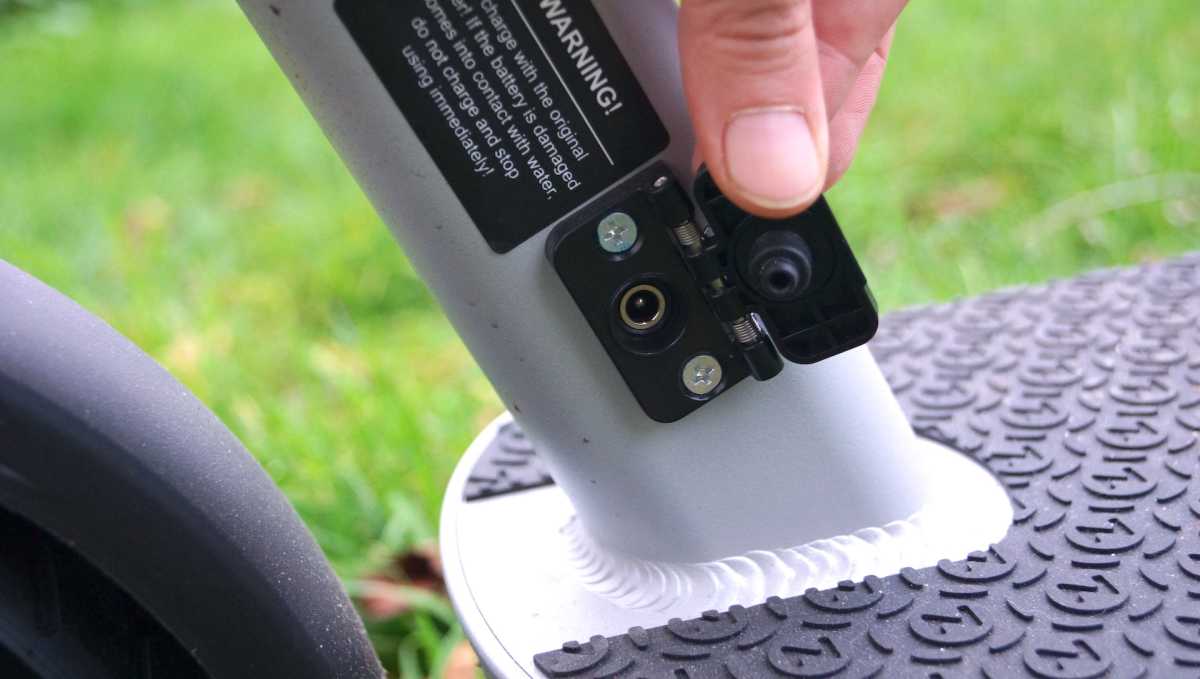 When using the provided kit, charging takes about 6 hours on average, but if you want to use the scooter for commuting, it should still go from flat to full in a typical workday. When riding in the rain, the charging port is kept dry and protected by a waterproof cover at the base of the stem.
Read More: First Mirrorless Cameras from Panasonic with Hybrid Phase-Detect Autofocus
Verdict
An impressive electric scooter that does everything you'd anticipate from an electric scooter and more is the Zinc Velocity Plus. The NFC-based locking system is my personal favourite, although the built-in cable lock is a convenient feature. My only wish is that the siren were a little louder to deter would-be thieves.
Aside from security features, the 500W motor offers quick acceleration and a top speed of 15.5 mph, though I believe this speed has been capped and it is capable of higher speeds. The ride is steady, the range of 31 miles is respectable, and the dual brakes give you total control when you need to stop.
There are many reasons to like the Zinc, even though it is more expensive than some popular options on the market.